Sewing Pattern for Knits - Sweatshirts 512
Return to Sewing Patterns
I have spent a little while getting this shape right and have made many versions of this top. It is quick to make and infinitely adaptable. Have a classic T-shirt neck (see my In-Depth Video) or add a tight or loose polo.
I like to make mine without a band at the hem. It's very much more flattering and you can tuck it in or wear it loose.
Members can download the Raglan Sewing Pattern and the In-depth T-shirt Video .
If you can find it, add ribbed banding at the cuff and neckline - leave the body straight or add ribbing at the hem. If not just use your jersey fabric doubled and stretched a bit. Such a versatile shape....
This shape is perfect for a sweatshirt or light weight long sleeved T-shirt.
Check out my T-Shirt Video and the YouTube Sewing Jersey Series.
A great pattern for all of you with overlockers and just as good made up using your conventional sewing machine.




About My Easy Fit Raglan Knit - a video clip

See My New Sewing Jersey Knits Page

A Classic Sweatshirt - Pattern No 512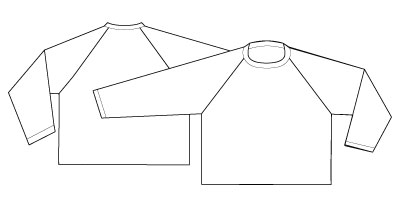 Sewing Videos - Making T-Shirts - All the Steps
Here are all the steps covered by the In-Depth T-Shirt Video
The best way to Cut Out Knit Fabric & Preparing the Pattern
Prepare the Fabric, Should you Pre-wash? & Cutting Out
Making Up. Best Machine Techniques for Knits
The Best Method for the Neckline
How to Add T-Shirt Sleeves
The Back and Back Yoke
T-Shirt Video for Members
Three Easy Pieces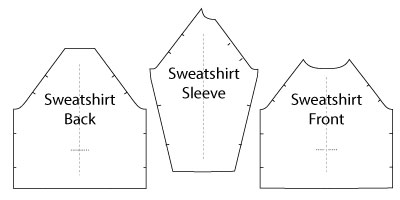 ---
Make Your Own Clothes
An Online Downloadable PDF Sewing Pattern