Design Notebook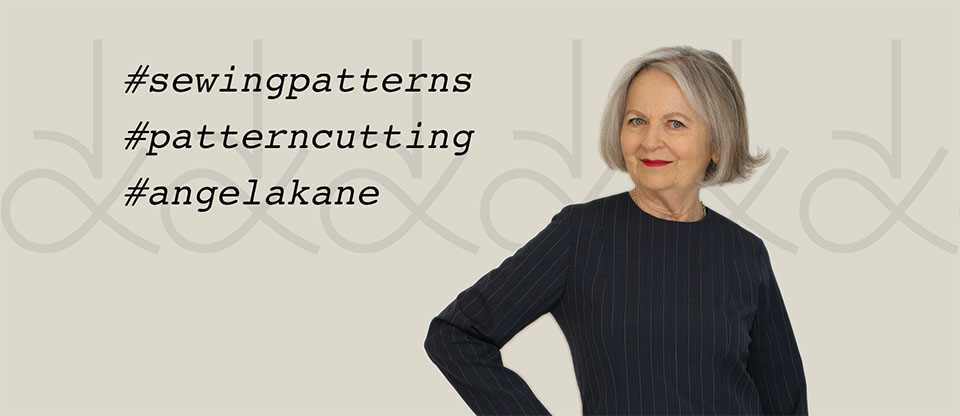 9th January 2020
This video is about transferring markings and applying the interfacing.
Continuing with making my 647 Boxy Jacket, I now need to cut out the interfacing. I have ironed the interfacing to all the main pieces.
So I am ready to sew the bodice together. A word about interfacing first. There are two main types of interfacing products - iron on - You can tell it's iron on as you will be able to see the shiny adhesive on one side or - sew in - and within these types you have several weights and also non-woven and woven.
When it comes to sew in, there are two basic methods The first method - you cut it with the seam allowance and baste it onto the wrong side of each piece.....
The second method involves catch-stitching the interfacing in place.....
When I started making my own clothes many years ago, all interfacing was sew in.
Watch the video for the full story -
2nd January 2020
Reducing or Increasing Back Waist Length
Back Waist Length is the most important measurement.
I am petite and I am altering my 647 Boxy Jacket pattern for myself. It will also help me fit this pattern onto my single metre of Harris Tweed in my mission to #UseWhatYouHave and #SustainableFashion.
Every other measurement can more or less be altered after cutting out but getting the Back Waist Length right will solve many fitting issues.
If you fall into the petite range as I do, you will be familiar with gapping armholes and bagginess across the back.
Usually it is necessary to take a little out at armhole level and also across the sleeve crown but on this occasion I want to keep the sleeves roomy.
31st December 2019
I have at last started making up the Boxy Jacket Sewing Pattern Number 647. It has been a busy few weeks. I am looking forward to wearing this Chanel style jacket.
Continuing on the theme of #sustainablefashion and #usewhatyouhave, I am utilising short lengths of linings and interfacings. I had hoped I would find enough buttons in my button box but I may have to reorder some extras.
I will be making my shoulder pads - this is another way to use up small offcuts.
Taping up this pattern took me less that 15 minutes but cutting out always takes a little longer.
I may have to add a false hem in an attempt to squeeze this pattern out of just one metre of fabric. I will be reducing the back waist measurement as I am 5'3" and that will help! I may shorten the sleeves a little more as well. They are three-quarter length and an inch shorter will be attractive.
My video making up this jacket will be uploaded soon.
18th December 2019
The Boxy Jacket Pattern is now finished - I will be adding the Instructions for Making Up. The more experienced sewers among you can probably get straight on and make it up without.
I will be making a video which will be available soon.
More details of this pattern to follow. And of course pictures.
You can buy this pattern for just £7 - Members can download it - Boxy Jacket 647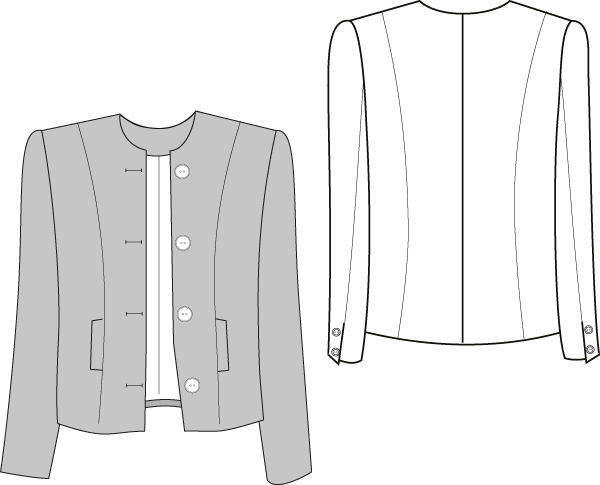 14th November 2019
I am currently finishing the Boxy Jacket Sewing Pattern Number 647. As this design has three-quarter length sleeves, I have been thinking recently about shirts and cuffs .
I have sewn a lot of shirt sleeve plackets over the years. This is definitely the best method. The essential template can be downloaded from my Free Sewing Page
Once you get used to doing plackets this way, you will have shirt cuffs that deserve to be seen. Good design is all about the detail.
I will be reviewing alternative shirt cuffs. Next I'll take a look at my Semi-Fitted Shirt with Frilly Cuffs Sewing Pattern Number 545.
5th November 2019
I have cut the pattern for the Boxy Jacket 647. I will have the pattern available on the pattern page soon.
In the meantime I have been making notes on drafting the pattern and how to use the 725/726 Panel Dress as a drafting block.
2nd November 2019
I have made a decision not to buy any more fabric until I have used up all that I have stored - follow me to see the PDF Sewing Patterns I will be producing as a result.
I will be using my 725 Panel Dress with Sleeves Pattern / Block as a basis for these patterns .