Sewing Books & Reference - I am currently recommending:
Various Links on this page will take you to Amazon
I participate in the Amazon Affiliation Scheme
David Bailey
David Bailey was the first of the modern, rebel you might say, photographers. His pictures of Jean Shrimpton arrived on the scene at about the same time that I started buying Vogue Magazine every month.
These images had a huge influence on fashion at the time. The most endearing quality is his great respect for women.
Chanel
The Chanel Jacket - many great reference points
Vogue
I have bought Vogue regularly since I was a teenager. There are so many magazines these days. Choose one of the best and stick with it.
I love the January's cover of Vogue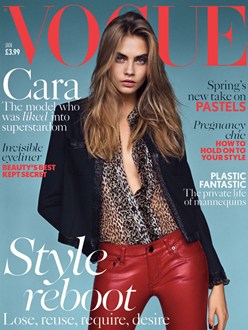 Cara Delevingne wears cropped wool tuxedo jacket, £2,830. Silk-chiffon blouse, £1,110. Leather jeans, £395. All Saint Laurent by Hedi Slimane. Hair: Anthony Turner. Make-up: Lisa Butler. Fashion editor: Kate Phelan. Photographer: Alasdair McLellan.
Or make Angela Kane Silk Chiffon Shirt, Jeans (yes, in leather!) and crop and trim the Soft Style Jacket
Hermes
The Hermes YouTube Channel is very, very special!
Jeanne Lanvin
I received this book as a much appreciated gift. It is a treasure of a book.
The Couture House of Lanvin has existed for over one hundred years and under the stewardship of Alber Elbaz. It looks like it will thrive well into the future. Started by an extraordinary women, it occupies a unique position in the history of Couture